After a welcome quiet spell, some alarming developments on 43rd Avenue
There are currently three residential property owners in the 43rd Avenue area (at Delaware/Georgia/Indiana Avenues):
One property owner has the only house on her single plot.
Another property owner has bought up every available residential plot and bulldozed all buildings from them, owns adjacent industrial land, and fought for months to try to sneak past a residential-to-industrial rezoning bill and an alley abandonment -- which the community successfully fought off.
The final property owner is an estate which owns two cleared residential plots.
That estate has announced they are going to auction off their two residential parcels on June 1st: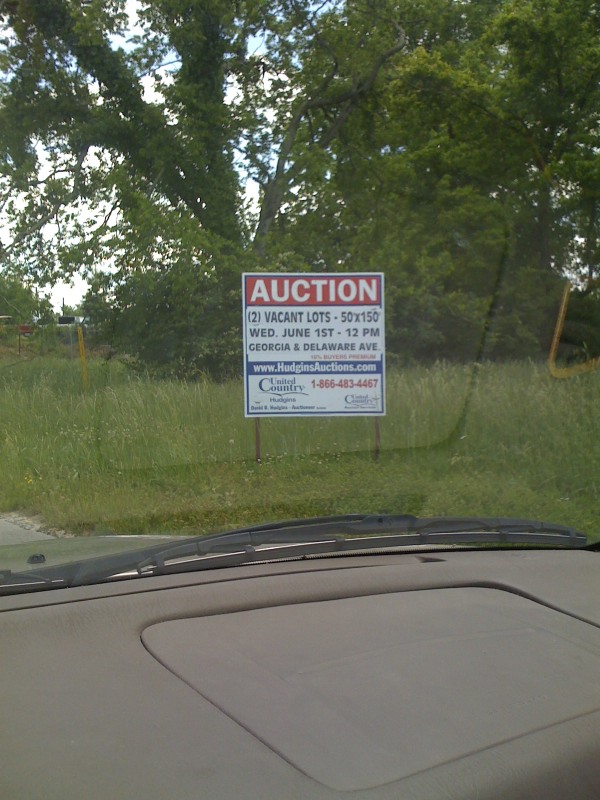 The auction listing uses language like "commercial - industrial potential":
ESTATE - Selling two vacant lots near Interstate 40 in Nashville with commercial and/or industrial potential. Each lot is 50'x150' and are located across from each other, one fronting Georgia Ave with the other fronting Delaware Ave. These lots are currently zoned "Residential" but are all vacant with commercial and light industrial / warehouse use across the streat. Selling for the Garrett Estate at Auction on Wed. June 1st at 12 noon.
The homeowning neighbor tells us that those parcels were available for sale, but at an extremely high price ($150K). Note that these parcels were advertised a year ago as "possible commercial":
There has been no definitive word on the starting bid price at the auction, but some folks presume it to be high ($100K?), based on a presumption that the proponent of industial rezoning will insist on buying the parcels, and a high opening bid will maximize the estate's take. Others are skeptical (as the parcels there in the past have sold for $10K-$30K), meaning there's a possibility that a new owner might be able to win at auction.
If the industrial property owner succeeds in buying these two parcels he will be one step closer to industrializing this large swath of what has always been a residential neighborhood. Any help you can provide is greatly appreciated!